Couldn't have come at a more perfect time.
One of my goals this summer was to make more connections in the blogging neighborhood with some of these fantastic military spouses!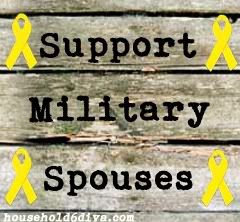 If you go to
Ann Marie's blog
just follow the directions to be a part of this fantastic opportunity.
If you don't already read Household Diva's blog,
you MUST!
(I'm a new follower and I fell in love...)
She has some really great posts about OPSEC, moving, blogging, photography, and of course the Military.
While I finish my cup of coffee and before I venture to the market,
I'm going to take a little time to connect with some of the military bloggers she already has listed!
Happy Weekend-ing!